About us
Melmat, Inc. is the business supplier behind Milk-Crate.com. Melmat, Inc. has been helping customers find better ways to store and transport their products for over 40 years.
Founded in 1971, Melmat, Inc. has grown to become a known leader in plastic container manufacturing, distribution and sales serving customers in a wide variety of industries since the '70s with cases, bins, crates, custom services and more.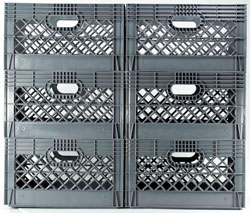 Many of our customers demand sustainable transport packaging solutions designed creatively to help handle and protect their products more efficiently and safely, while providing an excellent return on investment. With a tradition of growth, service and innovation that spans three generations, we will aim to be "Responsive & Resourceful" for your business too.
The Melmat, Inc. team will be with you all the way from the beginning idea to the end of the product life cycle. Nearly every Melmat, Inc. product is made with sustainability in mind for recycling at the end of its service life. If you need a custom designed solution, our highly knowledgeable design engineers will work as advisors with you to produce a comprehensive, world-class product.
Many industry leaders worldwide make our products their first choice. Whether you need reusable and recyclable plastic crates, cases, containers or bins, we have a solution that's right for your business.
From idea to concept to solution, your growth and success is what drives us.
Corporate Headquarters:
Melmat, Inc.
5333 Industrial Drive
Huntington Beach, CA 92649 USA
Phone: (800) 635-6289 (Toll-free)
Phone: (714) 379-4555 (Direct)
Fax: (714) 379-4554
Email Us